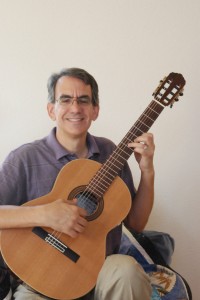 Music has been a passion as long as I can remember.  I often have a difficult section of music I'm learning repeating in my head and keeping cadence on a long bike ride. I've played many instruments over the years, but none have the expressiveness, warmth, and dynamic range of a good classical guitar.  I understand musicians and their quest for that elusive sound that is just around the corner but frequently just out of reach.
I built a small number of guitars on my own over the first five years of my build experience, and then took it to another level by taking classes and apprenticing with Master Luthier Peter Oberg.  His lessons have lifted me very high up the learning curve and under his guidance I am building much more tonally pleasant and responsive guitars.  His knowledge in this wonderful art is immense and his passion contagious.  Starting with his methods of wood selection, through top voicing, to overall aesthetics and tone, he has guided me towards the very high level of craftsmanship needed to build top quality instruments.  He graciously offered to have me continue to work alongside him in his shop on a part-time basis until his recent retirement.  I acquired much of his guitar woods and many of his building jigs once he retired.
I entered guitars into a listening sessions at two Guild of American Luthiers conferences, and my guitars performed well against many other professional builders.  My guitars have a strong presence in the concert hall, the growly bass that I was hoping for and trebles that ring true.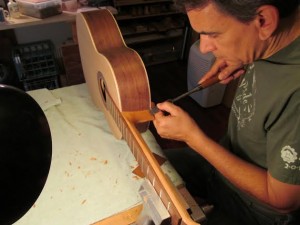 I build nylon string classical guitars because I love the sound and expressiveness of the instrument.  I've been taking every opportunity I can get to improve both the sound of my instruments and the sound of my playing.  Alas, my playing skills are not improving at the same rate as my instruments.  Since I am not a very skilled guitar player, I love getting my guitars into the hands of proficient players so I can really hear the range and ability of each instrument.
My left hand and arm are still suffering from an old ice-hockey induced wrist break that was improperly set.  Top that off with a rather lumpy index finger on my left hand that makes barre chords rather difficult to form correctly.  I've learned a few  lessons in the school of hard knocks regarding left-hand setup due to these limitations so I understand players that have a special need regarding setup.  Let me know your limitations or special desires and I can help you with a guitar that could help you reach your playing potential.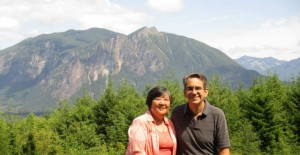 My wife Carol and I live in a San Diego suburb with our array of cats keeping us company.  This picture was from a recent vacation to Seattle.