A classical guitar is one of the most expres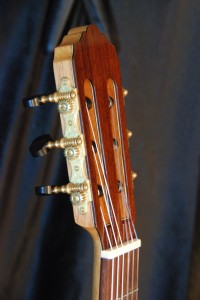 sive instruments on earth.  There are very few polyphonic instruments that provide the musician the ability to bring out the dynamic range while controlling the brightness and sonority of each note as well as a properly built classical guitar.  The musician can manipulate the sound with many right hand techniques such as bringing out singing melodies while muting accompaniments.
To achieve the full potential of a piece of music, the player needs an instrument that is both responsive and easy to play.  This instrument will fill the room with sound while providing shining trebles and deep slightly growly bass.  That's the wonderful Spanish guitar sound that we all love so much.  And the ergonomics of this instrument will make your hands very happy.
I strive to bring out the best tone from the wood chosen for the instrument and to make the instrument stress free for both hands.  My instruments are hand built by myself in my home workshop from quality raw materials. I have no employees and have no outsourcing of labor.  I select wood for each instrument for acoustical and structural properties and simply will not use wood for an instrument that does not meet my standards.

Guitar Design and Pricing
I started this business of guitar making in 2014 and I'm devoting the first few years to building instruments targeted towards students. All instruments made through the end of 2019 have reduced prices to enable students to get a high quality luthier-made guitar at an affordable price. There are no corners cut on the materials or workmanship, just a reduction on the price as I build up clientele.  I also hope this will keep some of these instruments local to San Diego so that I can hear their development over time as they and their players mature.
These instruments are built using excellent materials, and all include East Indian Rosewood for the back and sides, and either Western Red Cedar or Spruce for the top.
The plantilla (body outline) is the extremely pleasing shape shown above.  This is the same outline that my mentor Master Luthier Peter Oberg used on his beautiful instruments.  See more about my work and affiliation with Peter on the About Us page.
The top is built using a traditional Spanish fan bracing pattern. This pattern is the best way to get that Spanish sound that most users are seeking.  Braces are adhered to the top using traditional hot hide glue.
The scale length is either 645mm or 650mm.  The standard nut is 53mm wide that allows a generous fingerboard width that helps prevent pulling the strings off the edge of the fingerboard.  The fingerboard is slightly radiused to make barre chords easier to form, and slightly oversized frets are used to also help with forming chords.  This results in a very comfortable instrument to play.  Scale length and nut width are customizable on commissioned instruments without additional charge.
Price starts at $2500.00 for student instruments.  Price starts at $3000.00 for concert instruments.  Please see the Gallery page for instruments available at this time.  These prices include wonderful Gotoh Premium tuners (pictured above) at no extra cost.
For California sales, state sales taxes must be applied to the purchase.  Hiscox Pro II guitar cases are also available to you at my cost.
Warranty information
Your instrument is covered by a 5 year warranty for the original purchaser only.  Local San Diego owners can drop the guitar off at my shop for a free checkup at 6 months after purchase so I can make any action adjustments necessary as the guitar settles.  Distant customers should seek their favorite local repairman for these minor adjustments at their own cost.   I will be glad to service setup needs for my customers at nominal rates beyond the 6 month free service.
Contact me with the instrument number to start any service or warranty repair request.
This warranty does not cover neglect of the instrument. Water damage, physical abuse such as dropping, or issues due to extreme heat are not covered.  This instrument should be treated as you would treat a child or a pet, so please do not abuse it by leaving it inside a closed up car on a hot summer day.  All quality guitars are sensitive to humidity, and extreme dry conditions in your house can lead to structural cracks in the top or back which can be repaired but are not covered by the warranty.
If the instrument requires shipping for service, then the shipping costs to/from my shop will be split with the customer.